Soaring Above Setbacks—
African Americans In The Space Program
This exhibit is a snapshot of the intellectual potential in America. It acknowledges a mostly unknown cadre of women and men who have helped to move mankind's exploration of space to a higher level. Their flights into space are a direct result of their mastery of mathematics, physics, astronomy, engineering, and medical science. Their success can serve as a source of inspiration to all students that there is life beyond the classroom.
The women and men chosen to fly the space shuttle and operate it's complex computers must be fully qualified in all respects. The space program is no place for "political correctness" in selecting an "all American" looking crew . But, it is of course the most logical place to choose the "best and the brightest" college graduates to tackle the difficult and dangerous tasks associated with space travel. Just like John Glenn, the scientists, pilots, and doctors featured in this exhibit have the "right stuff".
Space exploration is a team effort just like football. The talented African Americans presented in this exhibit are key players on these wonderful teams. Therefore, the exhibit is really a celebration of our collective accomplishments as Americans. This is American history at its best. Black history always has been.
1. NASA was established in 1958, in 11 years they were able to put a man on the moon. As of 2012, 14 Blacks have flown into space. The dream of flight has meant freedom for people throughout the ages. These first Black astronauts reached the heights of scientific achievement, soaring beyond the wildest dreams of their grandparents.
2. Colonel "Guy" Bluford flew on August 30,1983, on the Challenger, STS-8 mission.
(Note: STS stands for space transportation system, or space shuttle.) Bluford was born on November 22, 1942, in Philadelphia, PA. He attended Penn State University and received a degree in Aerospace Engineering, with a minor in laser physics. He carried out medical experiments and helped to launch a $45 million communications satellite.
3. Dr Mae C. Jemison flew on the space shuttle on September 12, 1992, aboard the
Endeavor, STS-47. She assisted in the deployment of Space-Lab-J, a joint U.S. and Japanese project. She also conducted experiments with the use of a bio-feedback machine to help to reduce space sickness. Ms Jemison took dance in college and speaks Swahili, Japanese, and Russian.
4. Notably, the space shuttle orbits the earth at speed of 18,000 miles per hour.
5. Marine General Charles F. Bolden, Jr. was selected for NASA in May 1980. He was a former test pilot with over 3,000 hours of flight time. He is a graduate of the U. S. Naval Academy and has a degree in Systems Management and Electrical Science. He flew aboard the space shuttle Columbia on STS-61 on January 12, 1986; and aboard the Atlantis on April 12, 1992.
• Black youths were inspired by Charles Lindberg and Black pilots Dale White and Chauncey Spencer.

• Charles A. Anderson was the first Black to hold an American commercial pilot's license.

• Judge William Hastie was appointed to be an aide to the Secretary of War in WWII and made recommendations on how to integrate the armed forces.

• Ed Dwight was an Air Force pilot who received an offer from President Kennedy in 1961 to become the first Black astronaut. Colonel Chuck Yeager stood in his way and blocked his advancement. When Kennedy died in November 1963, Dwight was ordered to another assignment by President Johnson.

• In 1967, Air Force Major Robert H. Lawrence, became America's for Air Force astronaut designee. He had a doctorate degree in Physical Chemistry and 2,000 hours of jet flight time. His application to become an astronaut had been previously turned down by NASA. Unfortunately, he crashed in an F-104 in December, 1967. The jet had a top speed of 1,400 miles per hour.
• The exhibit includes information on 17 African-American astronauts, as well as engineers, physicists, and astronomers involved in National Aeronautic and Space Administration programs.
• The twenty 33 inch x 40 inch professionally crafted displays show color portraits, bibliographical profile, and highlights of their careers.
• The exhibit also includes the video Black Stars in Orbit, featuring NASA astronauts Ron McNair, Guion Bluford, Fred Gregory, Charlie Bolden, Mae Jemison, and notable scientists and engineers.
33 inches high
40 inches wide
Lecture Topics

• NASA's Black Astronauts; "The Fabulous 14"
• The Story of NASA Astronaut Robert Curbeam; "Baltimore's Best"
• Dr. Mae Jemison; "JUST DO IT!"
• Black Astronauts Who Flew on the Discovery Space Shuttle
• NASA Astronaut and Director Charles Bolden; "Bold Leadership"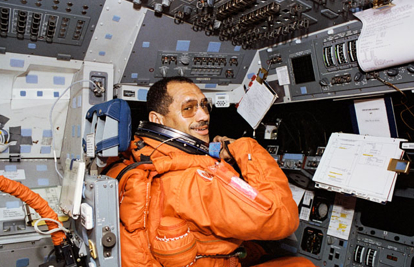 Bolden on the flight deck of the NASA Space Shuttle Discovery in 1994.
Commander Jackson shares his own stories and research on the daring men and women who comprise the NASA astronaut corps when he facilitates discussions on books written by Black astronauts.
Dream Walker: A Journey of Achievement and Inspiration by Dr. Bernard A. Harris, Jr., the first Black astronaut to walk in space.
Black Wings: Courageous Stories of African Americans in Aviation and Space History by Von Hardesty, of the Smithsonian Institution.
This comprehensive history book features stories about NASA astronaut Charlie Bolden, a veteran of four space shuttle missions including the Discovery shuttle.
Commander Jackson was a naval aviator for twenty years. He shares his unique insights and background history on the pioneers in aviation during his orientation lectures that are sure to enrich your future museum tour experience.
The "Black Wings" exhibit at the Smithsonian Air & Space Museum in Washington, DC.
This exhibit profiles the lives of the nation's first black pilots and today's astronauts including General Charlie Bolden and Dr. Mae Jemison.
The "Space Shuttle Discovery" exhibit at the Smithsonian Air & Space Museum, Steven F. Udvar-Hazy Center near Dulles Airport in Virginia.
This space shuttle Discovery is the focal point of this exhibit. Eight Black astronauts flew missions aboard this magnificent spacecraft.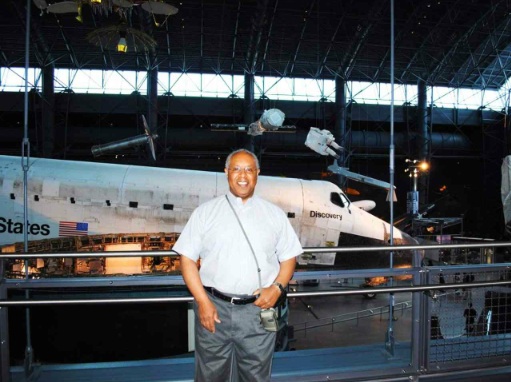 Commander Jim Jackson and the NASA Space Shuttle Discovery at the Udvar-Hazy Center in Chantilly, Virginia, the companion facility to the Smithsonian Air and Space Museum on the National Mall in Washington, DC.